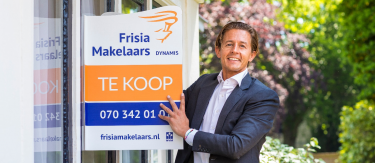 Buying a house
Buying a home is an important step that is only made 2 or 3 times in a lifetime. What should you offer? How should you negotiate? Buying a house requires expertise and experience. That is why it is wise to use a real estate agent who represents your interests as a buyer. We want to list what our estate agents can do for you.
Didn't you see your dream house in the offer of Frisia Makelaars? No problem, we are happy to assist you in the purchase process.
With the purchase of your home, you can rely on our qualities and expertise. We support and guide you through the entire purchase process up to the critical transfer at the notary. It is nice to get expert advice and someone who only represents your interests. Together we are stronger! Meet our specialists to discuss the possibilities of purchase assistance.
Enkele kwaliteiten van onze aankoopbegeleiding:
Onze makelaars zijn bekend met de prijsstelling van de woningmarkt, ook in uw buurt!
Een direct inzicht van de bouwkundige staat en inschatting voor eventuele herstelkosten. Hierdoor loopt u als koper géén risico's.
Wij ontzorgen, waardoor u tijd en energie bespaart.
Optimalisering van het aankooptraject en een zorgvuldige afwikkeling.
De kans om "voor de markt uit" te kopen en potentiële kopers achter u te laten
Wij zijn graag een luisterend oor en beantwoorden al uw vragen.